Welcome to the next stage of the IT Service Management maturity curve – where the IT service provider shifts focus from just managing costs to a more holistic and in-depth customer-centric approach across ALL service activities.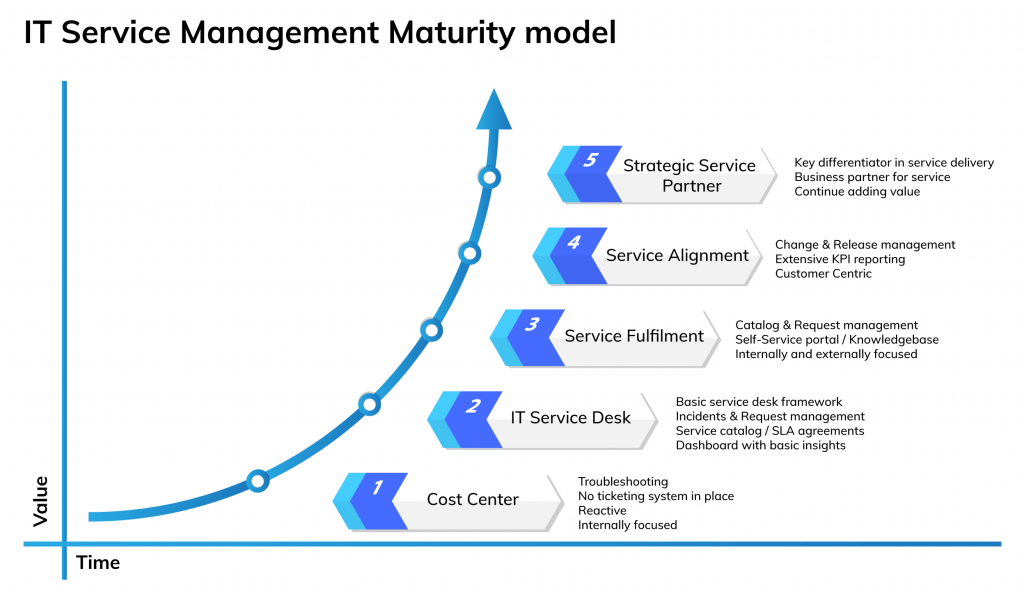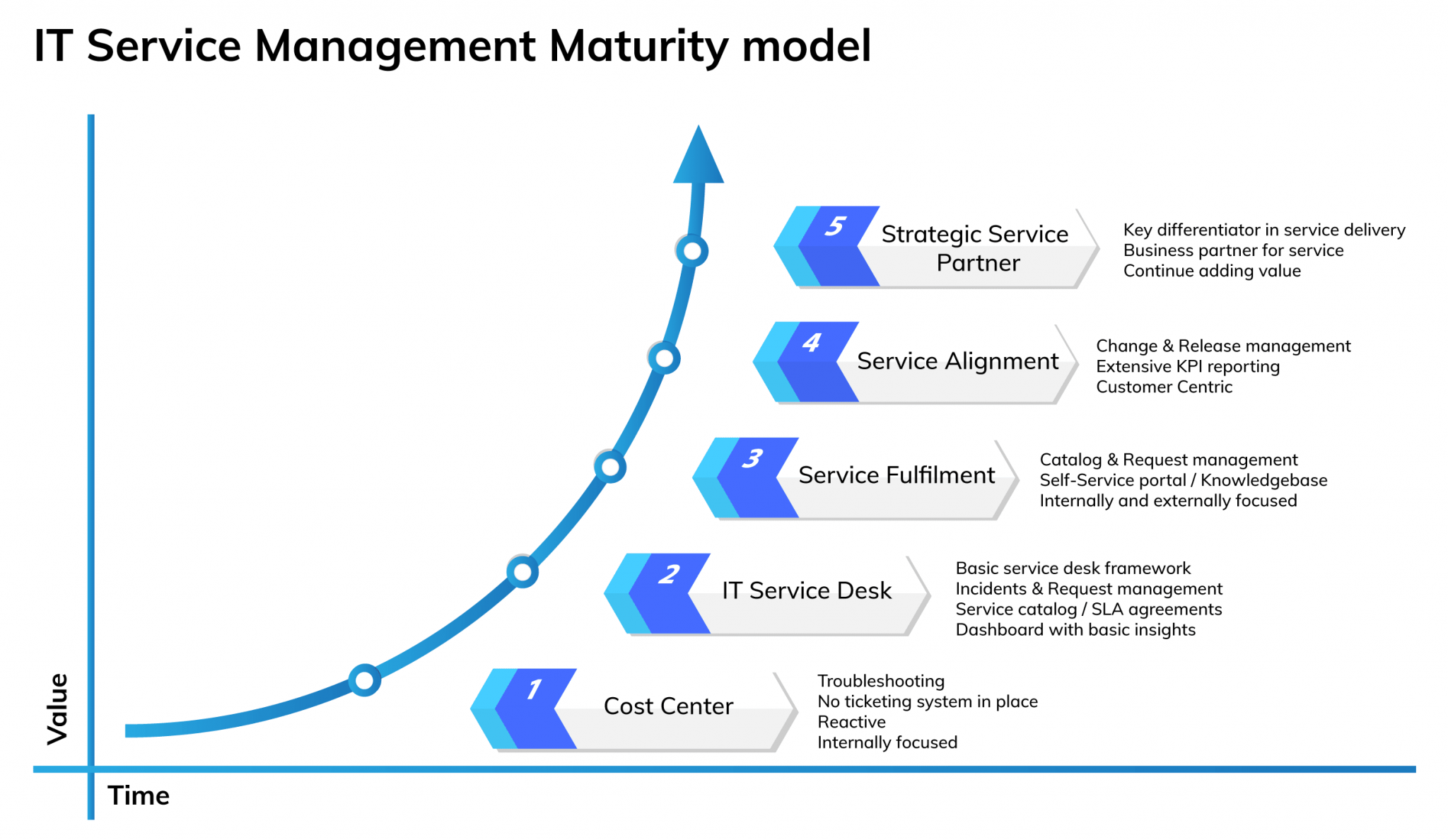 In the previous stage, we looked at the beginnings of a customer-oriented approach, so in this strategic phase; those foundations have been laid and now we move to a broader and deeper alignment.

Let's look at the processes and best practice the service provider now needs to put in place in order to align their entire service provision with the customer at the center.
Moving toward guaranteed SLAs in service provision
There are many ways to define an SLA, I personally prefer the SMART method:
Specific. An SLA must be precise, with details that meet expectations for the service delivery team, how they work and what the customer requires.
Measurable. How will the actual performance be tracked against the promised SLA, what KPIs are being used and how frequent is it being measured? The foundation of measurement should be in place (at a basic level comparing the promised SLA against the actual time / service measurement recorded for the specific tickets / service catalog item).
Achievable. The SLA must be realistic at all times. If you create an SLA that can hardly be met, you will get an unmotivated and stressed service delivery team who lose faith in targets and ignore them.
Relevant. Both in terms of the area of IT service being measured within the SLA and also the relevance of the SLA itself to your value proposition, customer needs and competitive edge.
Timely. Attributing a timescale to an SLA is key for both the business overheads (cost to serve or TCO) and invaluable for the customer who will depend on understanding turnaround times for requests and resolutions.
Constant monitoring and reviewing SLAs is key because if you don't improve and adjust SLAs it can cause conflicts with customers, which can result in penalties and customer complaints.
When you are confident as service team to provide a consistent level of service you can define guarantees in the Service Level Agreement. An SLA in a contract will bring trust and confidence for customers and assure them of an improved customer experience.
Focusing on the right KPI analysis in IT Service Management
There are multiple ways to measure success in IT Service Management, but the advice is "less is more". Select 6 to 8 KPIs to focus on – these should be KPIs that are most relevant and align with best practice – plus of course by limiting the number of KPIs it allows you to more easily monitor them within a continuous improvement approach – always living as a high-achieving support organization delivering optimal customer satisfaction.
So, what KPIs should you select? Compliance, Value and Performance are common areas for measurement.
The most common and effective metrics KPI's are:
First-contact resolution
Measuring the percentage of tickets resolved on first contact with the customer.
Cost per ticket
Based on the calculation of the monthly expense of the service organization divided by the total of tickets.
First-level resolution
FLR is a measure of a service desk to resolve tickets at Level 1. For example, the situation where a Level 1 service agent accepts a call, logs a ticket, but fails to provide a solution to the customer on the initial contact. Instead of escalating the ticket, the Level 1 service agent researches the user's issue, identifies an appropriate solution, calls the user back, delivers the solution, and closes out the ticket. So, the ticket will not be transferred to level 2 or higher.
Mean time to resolve
MTTR is a metric that measures the average elapsed time from opening to closing a ticket. Measuring based on business hours so the hours in weekends and evening will not be calculated.
Job satisfaction
A great place to work culture will improve overall performance, so it's important to measure the employee experience of the service team. An efficient method to measure is the eNPS. The employee net promoter score is the difference between the most satisfied and unsatisfied employees. With the support of survey tool like SurveyMonkey or Microsoft Forms you can easily collect the feedback of employees based using a two-question method. The first question is always based on a scale from 0 to 10, with 0 being the least likely to recommend your company, and 10 being the most likely. The second question is an open-ended question to get more detailed information based on a reason. A common first question is: "How likely are you to recommend us as a place to work for your family and friends?"
Based on the scoring of the first question you can then sort ratings based on three categories: promoters (with ratings of 9-10), passives also named neutrals (with ratings of 7-8), and detractors (with ratings of 6 and below). In the calculation you don't calculate the passives/neutrals.
The formula for eNPS = % of promoters minus % of detractors.
My advice is to use the eNPS twice a year and also use more specific surveys along the way to get deeper insights on specific experiences.
The same methodology can also be used for customers, it's called NPS and can be used for customer satisfaction measurement.
Mastering capacity management as an IT service provider
A term used within ITIL, Capacity Management ensures that the capacity of IT services (including service agents' availability) and IT infrastructure can deliver SLAs in a cost-effective and timely manner.

In terms of best practice, capacity management is there to help you as a service organization plan ahead for changes, use your resources efficiently and upscale when you need to. By its nature, capacity management is an iterative process, it never ends and always requires constant attention. Your management team will need to be comfortable with modelling and designing plans, creating a planning structure and put in place mechanisms to monitor, report and revise against the plans.

Once you have developed an optimized process for capacity management, the benefits will materialize for your business and for your customer:
Improved performance on personal and team level
Elimination of redundant work at an agent level and the removal of unvaluable service items in your catalog
Increased customer and employee satisfaction and trust
Maximized use of capacity
Gain insight into the TCO to support decision making
Makes it easier to make decisions about extending the support team based on future growth and capacity needs
Advanced change and release management in ITSM
Change management is all about governance. A change needs to be reviewed, authorized and planned. Release management is the process of installation. It's on top of change management, building, testing and deploying services (updates) into the production environment.

IT Service Providers will find it helpful to predefine change models – and apply them to appropriate changes when they occur. A change model is a way of predefining the steps that should be taken to handle a particular type of change in an agreed way. Support tools can then be used to manage the required process. This will ensure that such changes are handled in a predefined path and to predefined timescales.
Change management can be led by a Change Approval Board (CAB) responsible for managing the authorization of software changes. Changes should be tracked throughout their lifecycle to support proper handling and reporting on the status of Changes. Within the Change Management system, status codes may be linked to Changes to indicate where they are in relation to the lifecycle.

Once authorized, a change request or the change record is handed over to the release and deployment process for coordination and collaboration with the appropriate technical and/or application management teams for building, testing and deploying the change.
Release management is then responsible for the software development and delivery of these changes.

This structure helps align software development with business priorities and ensures compliance, particularly when large and infrequent releases carry significant risk.
Release management and change management can be developed as separate processes but in this more advanced state be aligned to work together.
Where are you on the ITSM maturity curve?
Catch up with my previous blogs on navigating the IT Service Management maturity curve, by clicking on More from Author below.
Article initially published on LinkedIn