As you know, working with the Microsoft Dynamics 365 Commerce platform ensures your retail business benefits from continuous improvements with release waves, twice a year. So, what is my take on the latest functionalities?
Enhanced customer experiences with digital commerce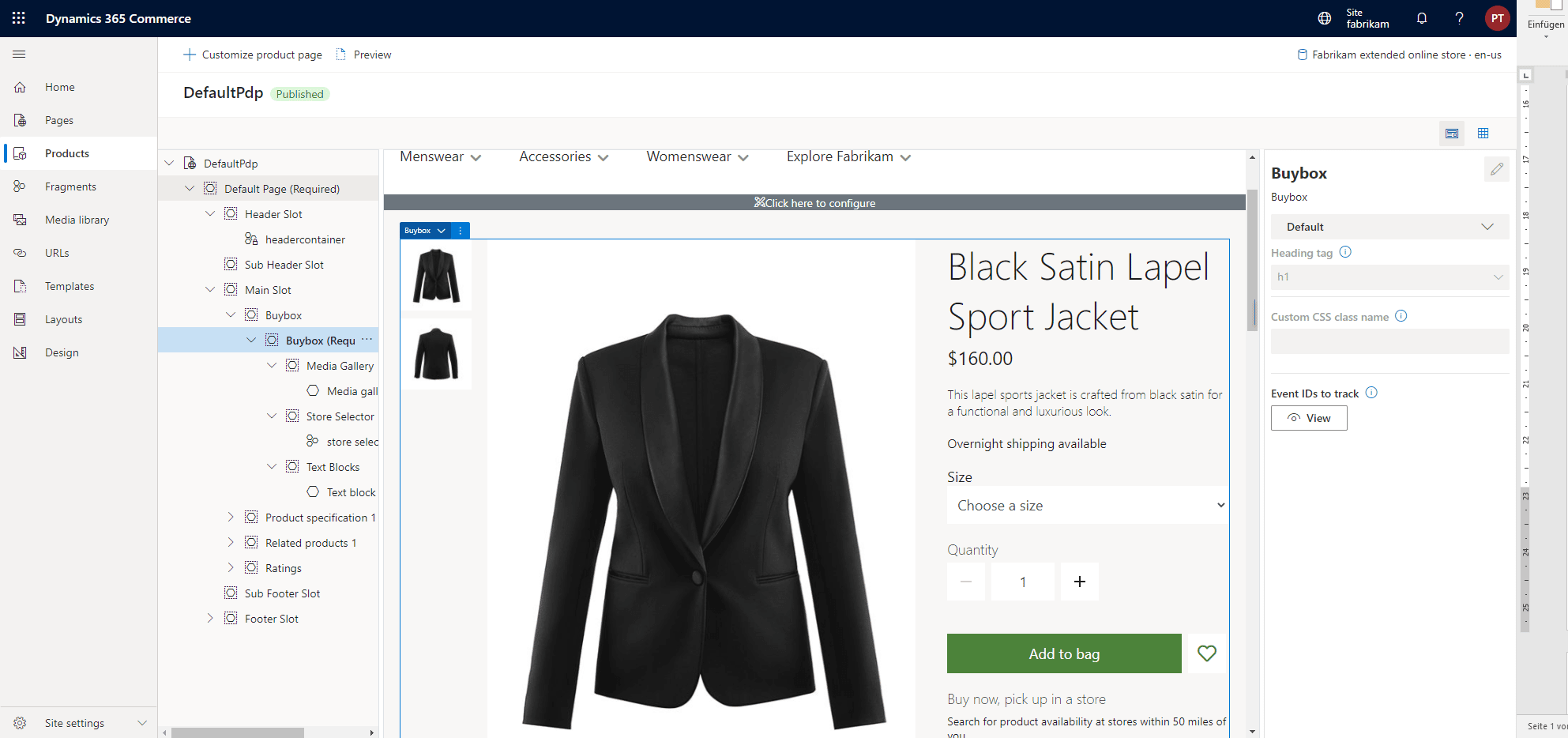 Visual page builder improvements: Through improvements in the Visual page builder marketers have now the right tool available to easily create marketing and merchandising pages for their website. The WYSIMYG (what-you-see-is-what-you-get) interface is awesome. It reduces the learning curve for site authors by providing an intuitive and direct content authoring experience. Even I can do it without being really trained to create new and changed content and layout changes.
Intelligent content experimentation: In the existing version from Commerce it was not possible to make the same experiments such as A/B testing on e-commerce websites. With the Wave 2 enhancement, it is quite easy to define different experiments and get the results. You can make experiments on a whole e-commerce site or entities within a page.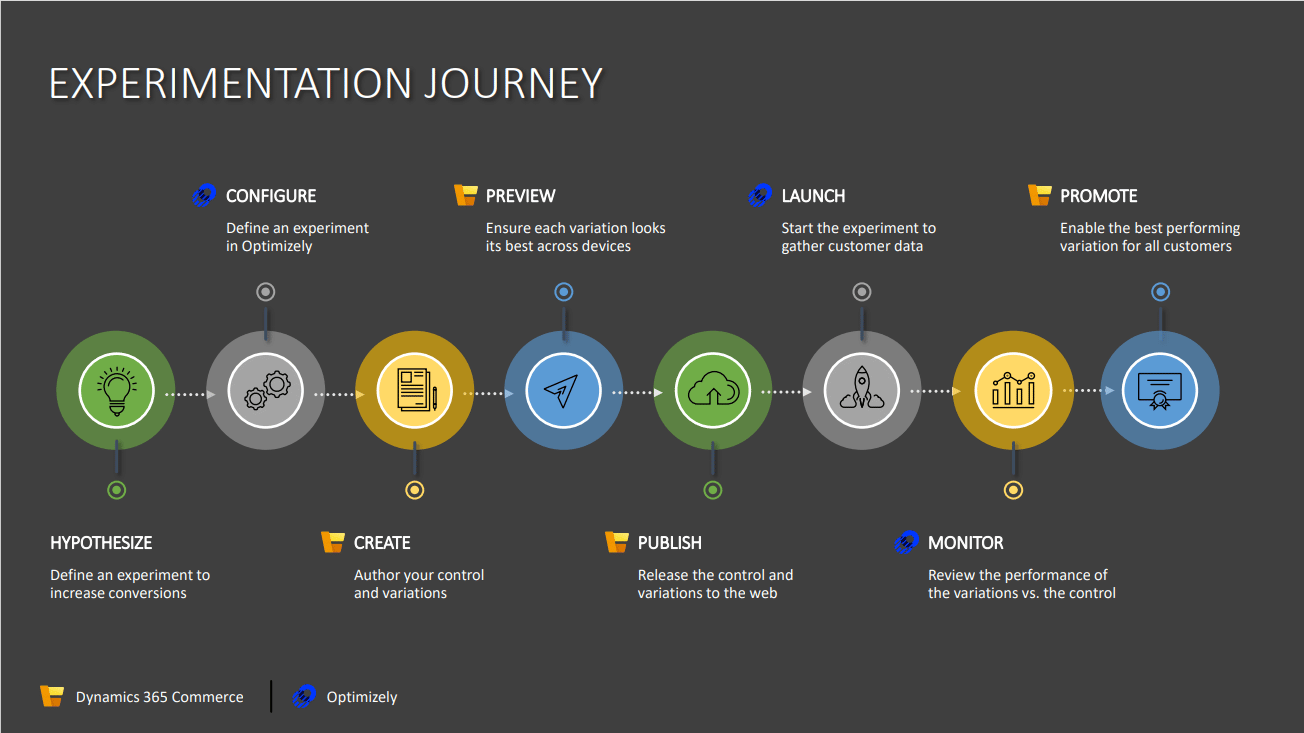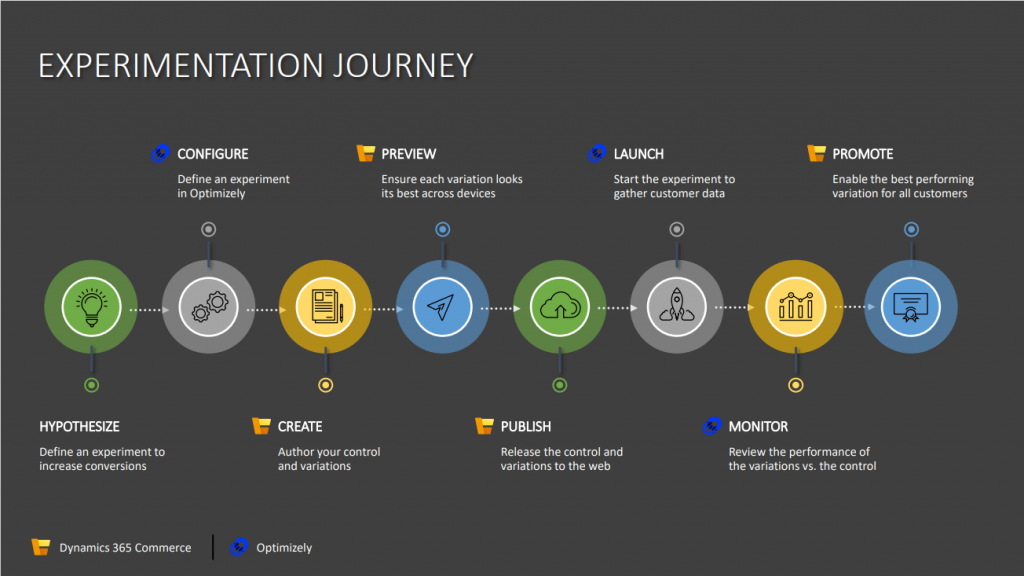 A simple experimentation is to define pages with different images and with a shop now button. You can decide that 50% will get Page A and 50% will see Page B. Depending how many visitors have chosen the shop now button the winner image is suggested as the standard one. I'm looking forward to using the experimentation features in Commerce. In my opinion this is a really a great tool to boost your e-commerce sales, especially in these times.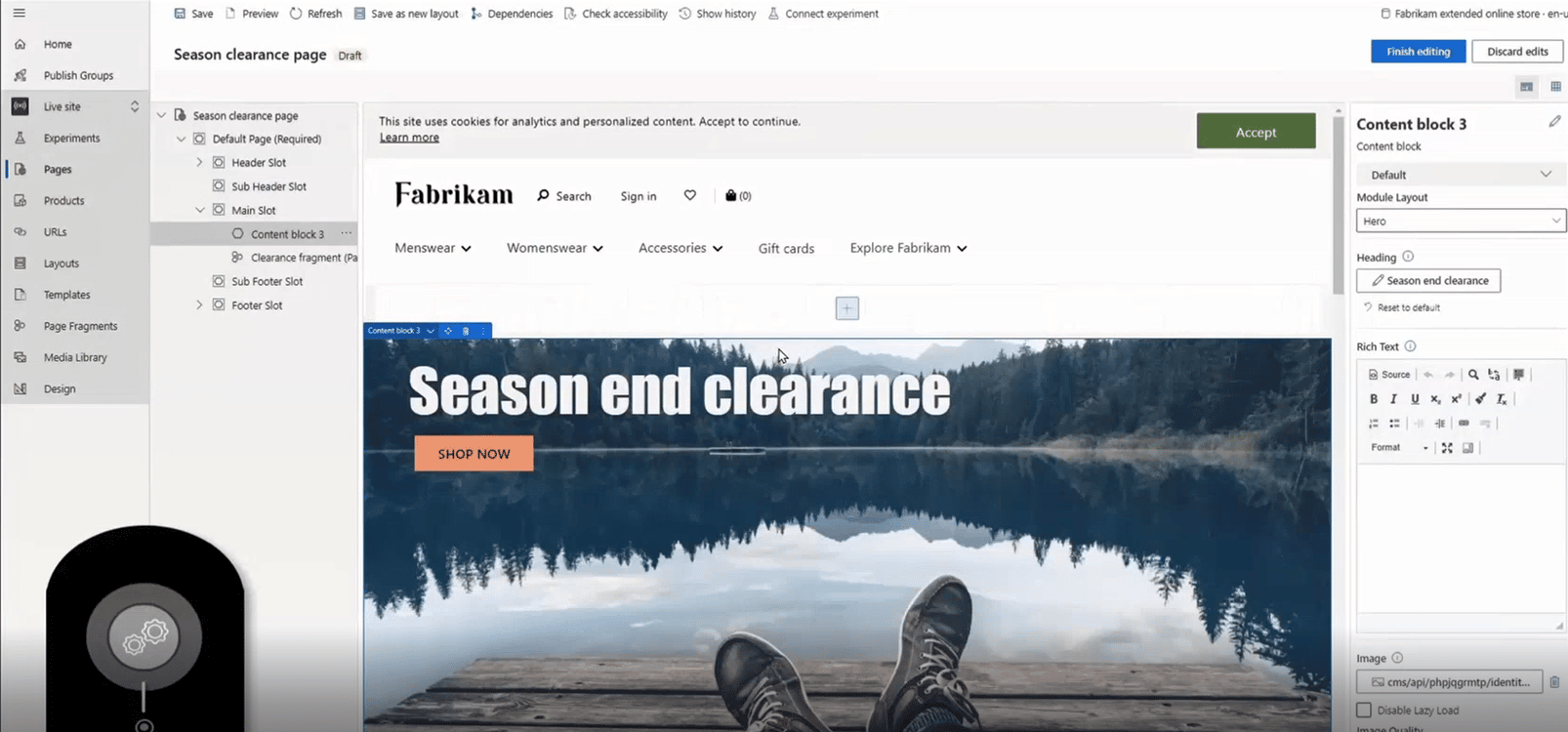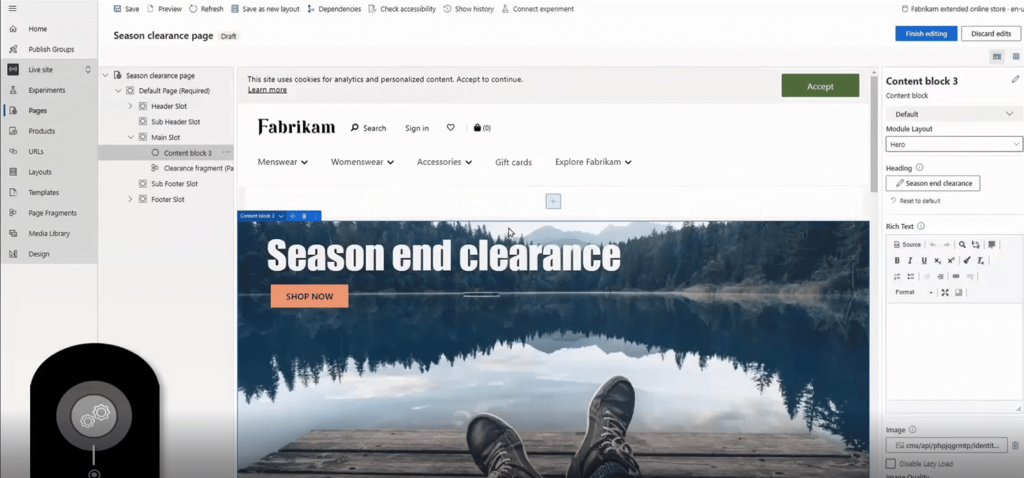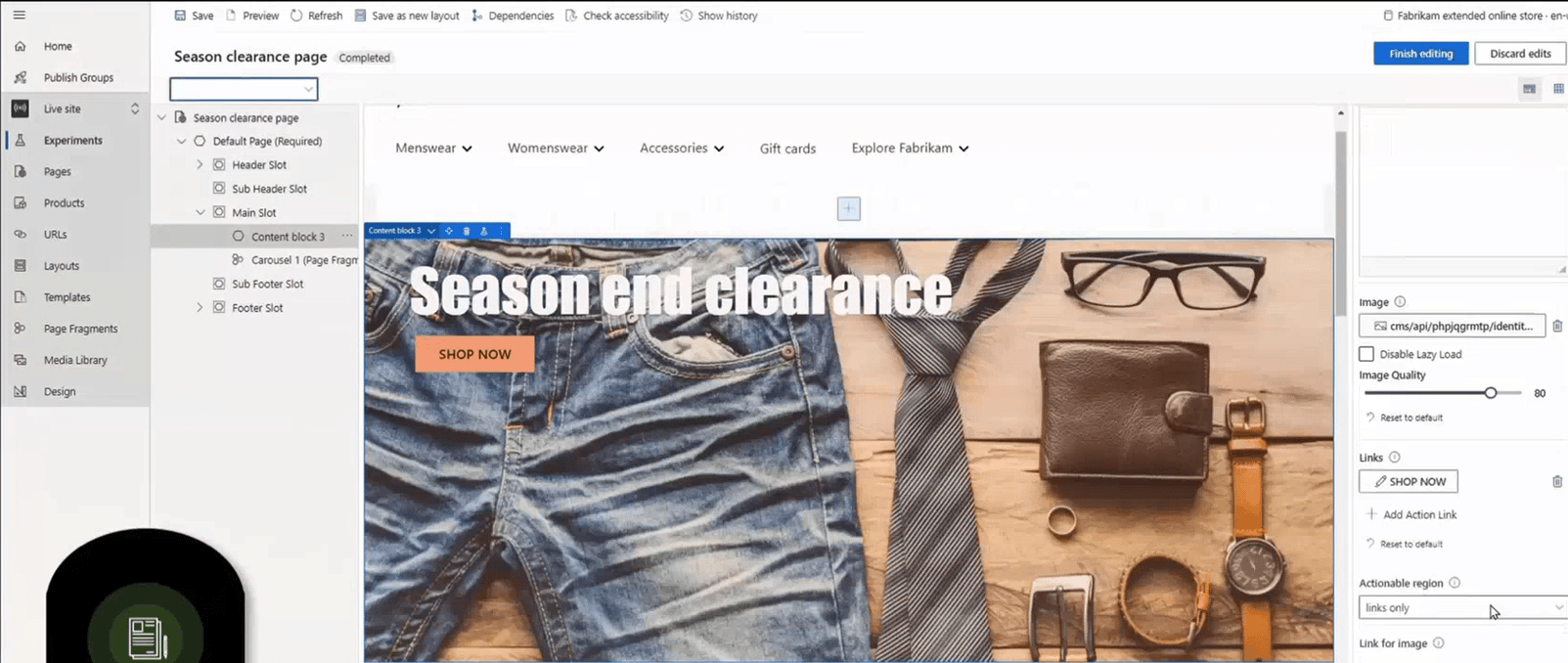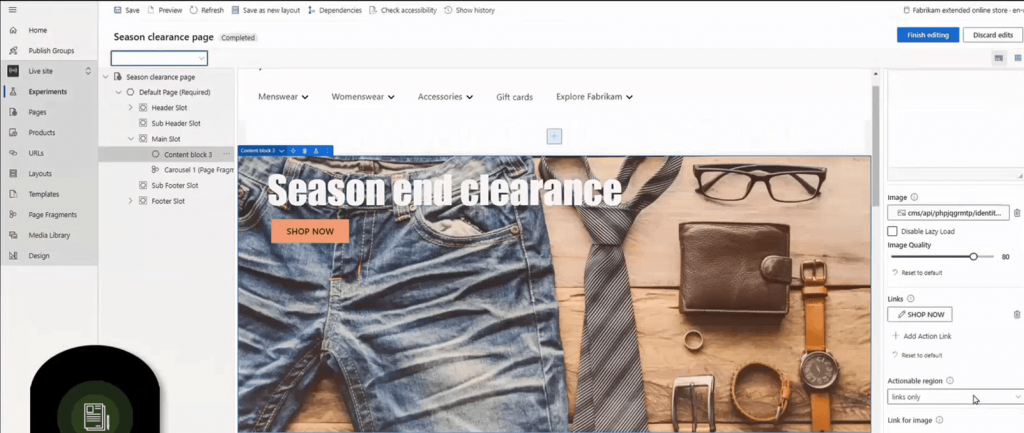 Abandoned cart capabilities for-commerce: E-commerce retailers want to analyze abandoned carts. With new functionality, users can link abandoned cards (Retail Server) with their email marketing provider. To take this one step further, I want to see an integration to Dynamics 365 Marketing.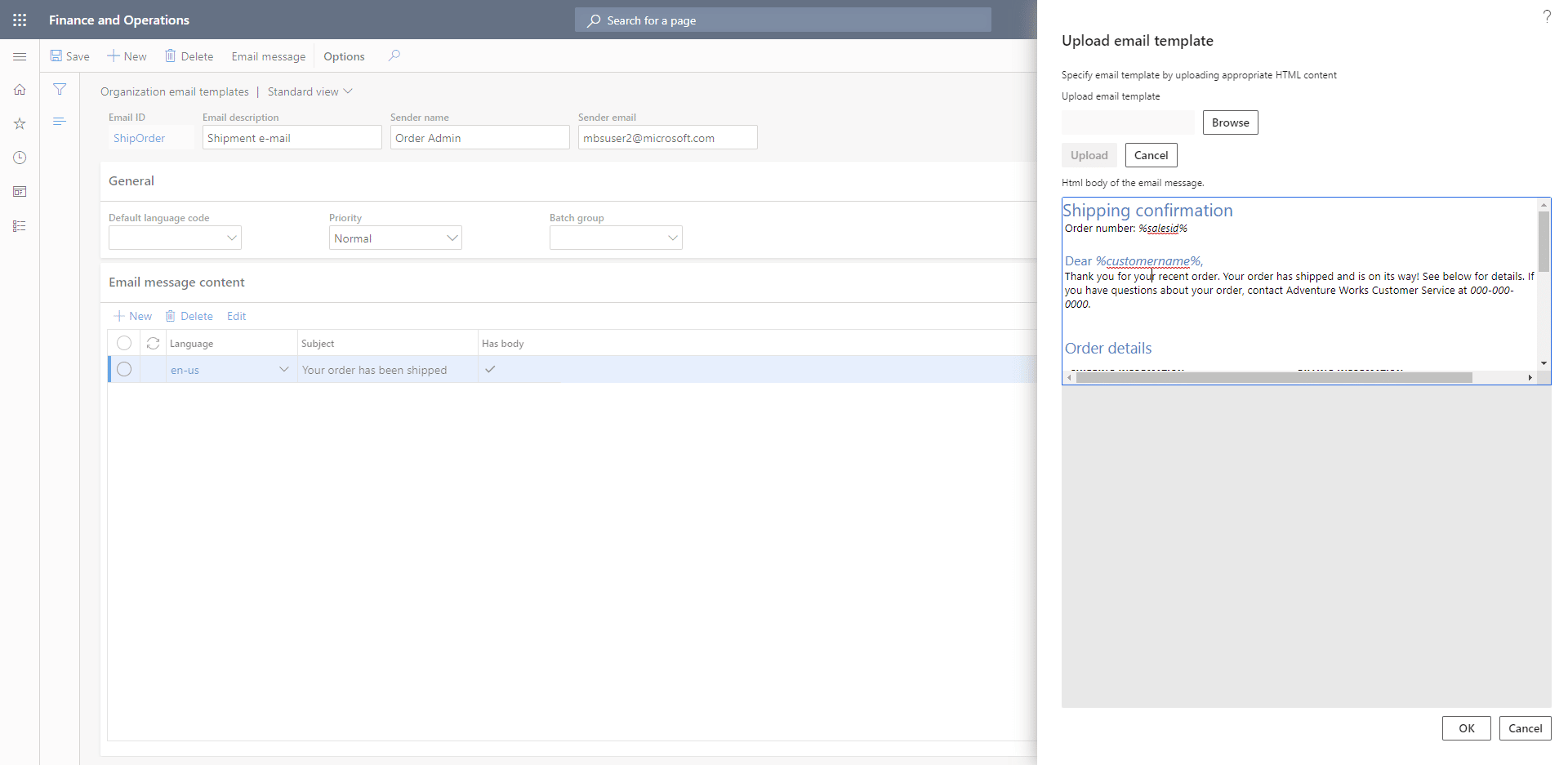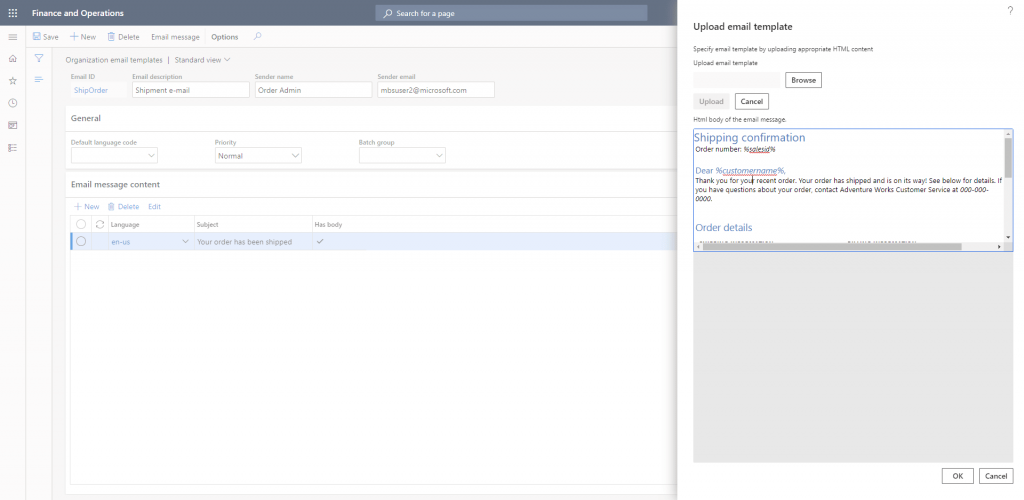 Customize transactional mails by mode of delivery: In an earlier release, a notification type such as order received, or order shipped could only be mapped to a single email template. When an e-commerce site supports multiple modes of deliverythe email could not be set up to be specific to each individual delivery. With this release, it is possible to assign a unique email template to each combination of notification.
New out-of-the-box commerce modules for e-commerce: The Commerce library to build an e-commerce site without additional customization was limited. It was not possible out-of-the box to perform secondary site navigation (Breadcrumb), to present a Mini-cart summary on the header, to allow multiple navigation levels and support images. With the wave 2 enhancements a lot modules were added to the library. A very welcome reduction of customization 😊.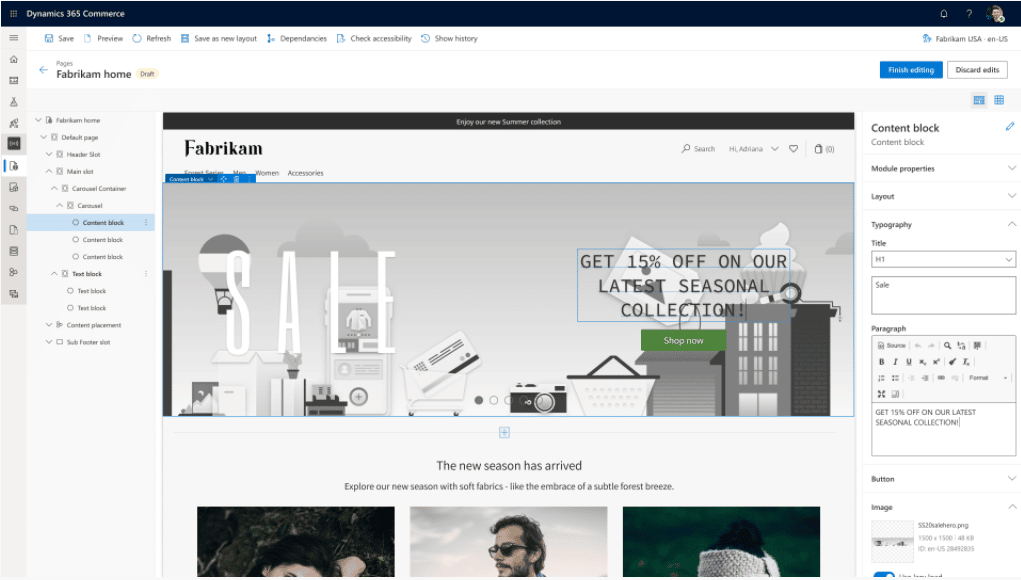 Improved intelligence, insights, and analytics to help drive growth
Shop similar looks: I have not tested this yet- but viewed the Microsoft presentation and documentation and it looks awesome. With the "shop similar looks" (powered by Artificial Intelligence and Machine Learning) you can generate a brilliant shopping experience for consumers. Great potential for up and cross-selling in my opinion.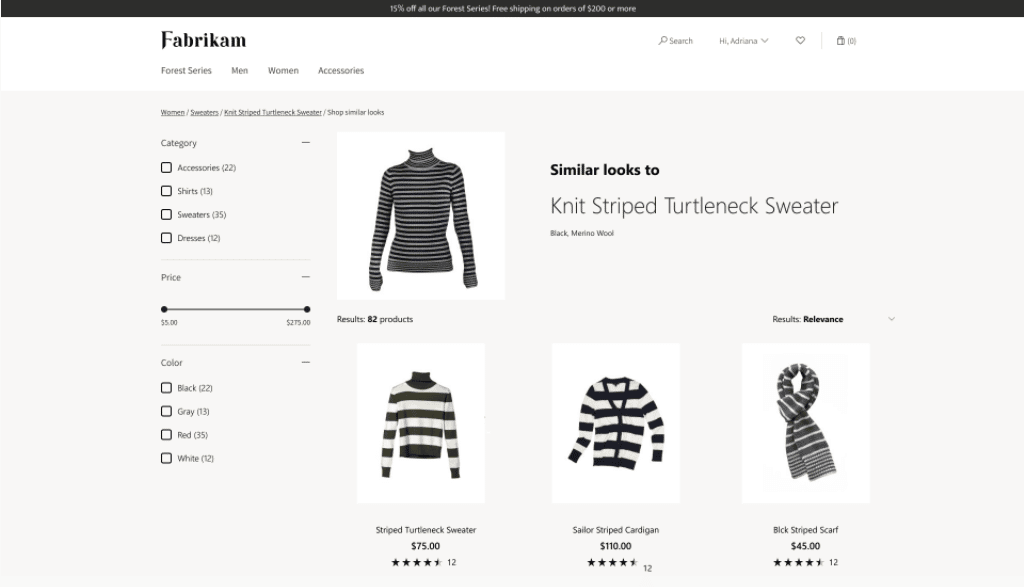 PayPal Integration: In the past Commerce only supported the ADYEN Connector. More and more customers were asking to support different other connectors like PayPal, Apple Pay, Google Pay, AliPay, WeChat, … I'm really happy that besides ADYEN we have now also an integration to PayPal ready – no need for a custom connector to PayPal anymore. The PayPal payments will support the omnichannel scenarios such as buy online, pickup in store, and linked refunds. Well done!
Streamlined business performance with omnichannel excellence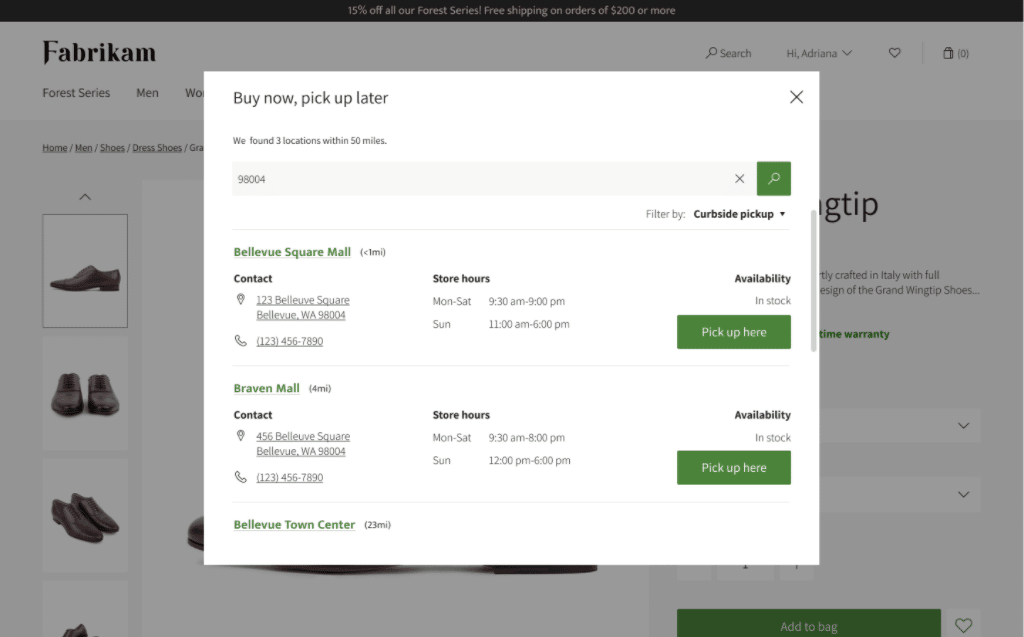 Curb side pickup and contactless shopping: Curb side pickup and contactless shopping are becoming more and more important (think Corona which added to the priority of adding this missing feature). Curb side pickup (and other different pickup types) extends the flexibility of how the shopper places their order and how it is fulfilled.
Dynamics 365 Commerce app marketplace: Marketplaces are increasingly playing an important role as an additional sales channel. Dynamics 365 enables customers to do more with the platform with third-party services, connectors, modules, and themes. Easily discover these new capabilities in Microsoft AppSource where you can purchase and deploy them for configuration and use in your Dynamics 365 Commerce environment.
Updates are planned from October 2020 to March 2021 so a lot more features are coming in 2021!
I am personally looking forward to further enhancements (B2B Commerce? More out-of-the box e-commerce modules, Additional PSP, Marketplace integrations etc.)
Meanwhile, what do you think? What's your new favorite new feature in Microsoft Dynamics 365 Commerce? How do you see that helping you as a retailer? What features are you waiting for?