I was really curious about the new Microsoft Dynamics 365 release especially for Customer Service.
Why? Because as an advocate for good customer service, I know it is one of the key ingredients that impacts business growth (failure to embrace has left behind many companies). I know this area never stands still, as customer expectations merge with technological abilities.
When it comes down to it, excellent customer service supported by effective customer data collection is often the differentiator to improve Customer Experience, achieve growth in revenue and gain market share.
So this was my expectation of Microsoft's 2020 release wave 2 for Dynamics 365 Customer Service; how would they respond (or even act first) in this crazy year? How have they improved an organization's ability to develop a customer centric strategy plus operationally simplify the customer service process both for the customer and the agent?
Let's focus on hot Dynamics 365 Customer Service features delivered in this release!
Innovation is accessible to transform customer service
Introduction of AI for recommendations
This embedded innovation uses Artificial Intelligence to support customer service agents to be more proactive and reduce their time spent researching answers and solutions to customer needs. These AI-driven insights provide case context and historical success rates.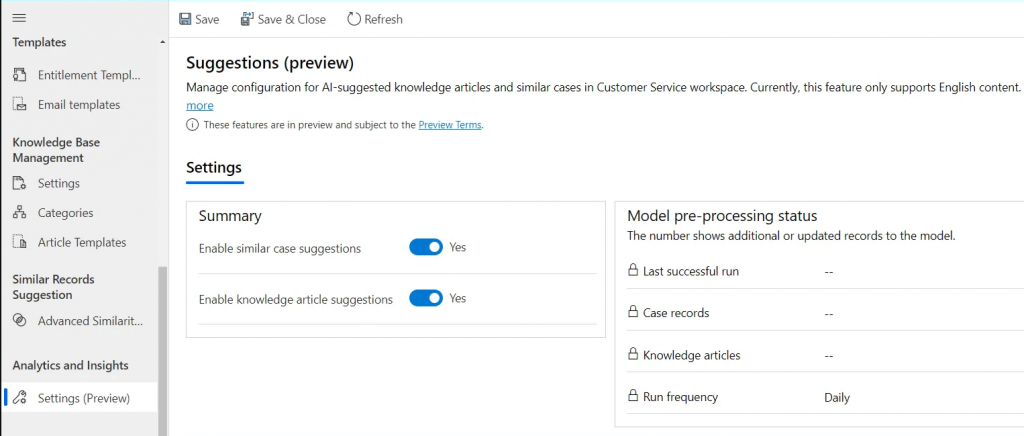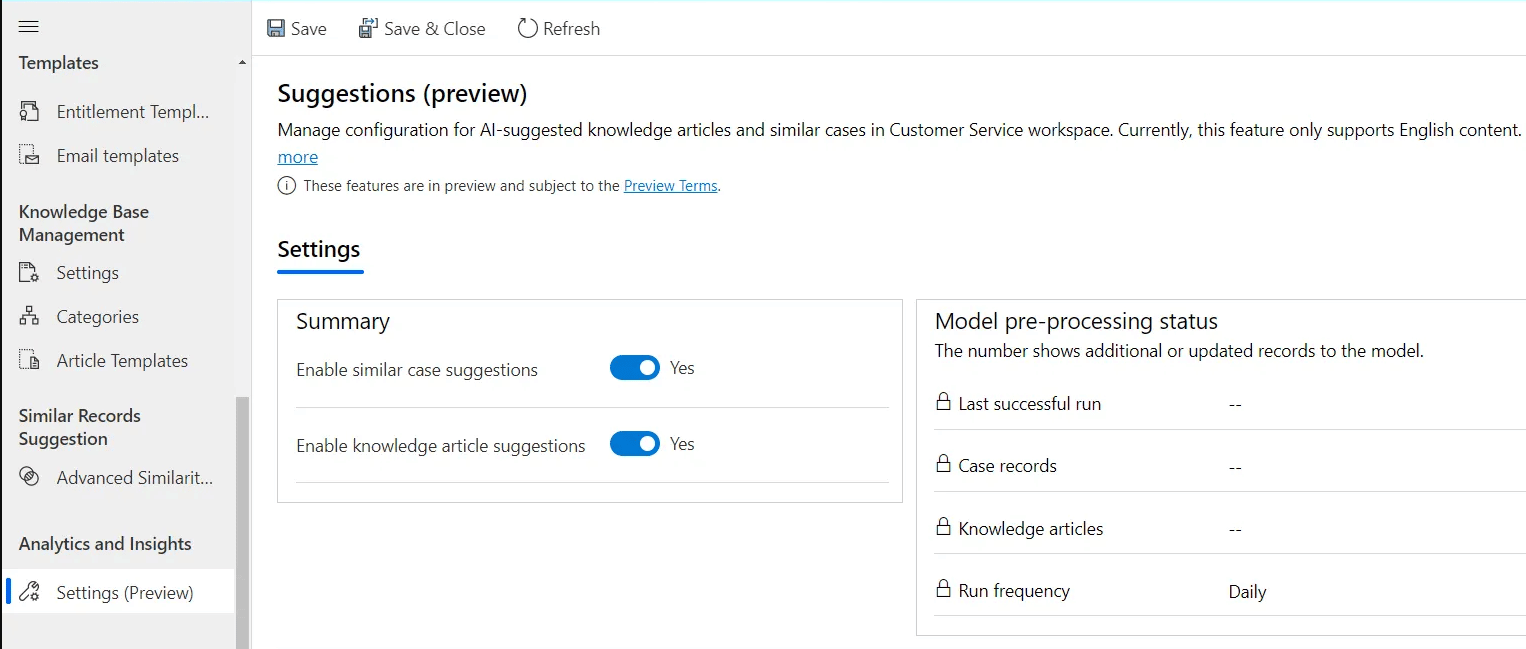 The recommendation model, just as with suggestions on "Similar Cases" and present "Relevant Knowledgebase Articles" is continuously improved by a comprehensive feedback mechanism. AI is truly part of our everyday work, amazing!
Connected Customer Service with IoT alerts
IoT integrated scenarios helps organizations transform into a proactive and predictive service model by integrating IoT diagnostics, IoT device update, and case management platform into Dynamics 365 Customer Service. This functionality was in the past only available in the Dynamics 365 Field Service app but I'm pleased to see it is now also available in Customer Service. This truly reflects the relationship between customer, technician and service agent.
In addition to servicing devices when customers reach out for support, agents can also monitor devices and proactively send commands to update devices without the customer having to report the issue. This functionality was in the past only available in the Field Service app but is now also available in customer service. Real-time alerts based on IoT data help customer service agents monitor and fix issues with devices to provide more pre-emptive customer service.
This proactive approach improves customer satisfaction (and the bottom line) by increasing product performance and reducing the number of reactive customer support inquiries. Richer IoT alerts that include historical device metrics help agents know when to take action to update devices and avoid issues and failures.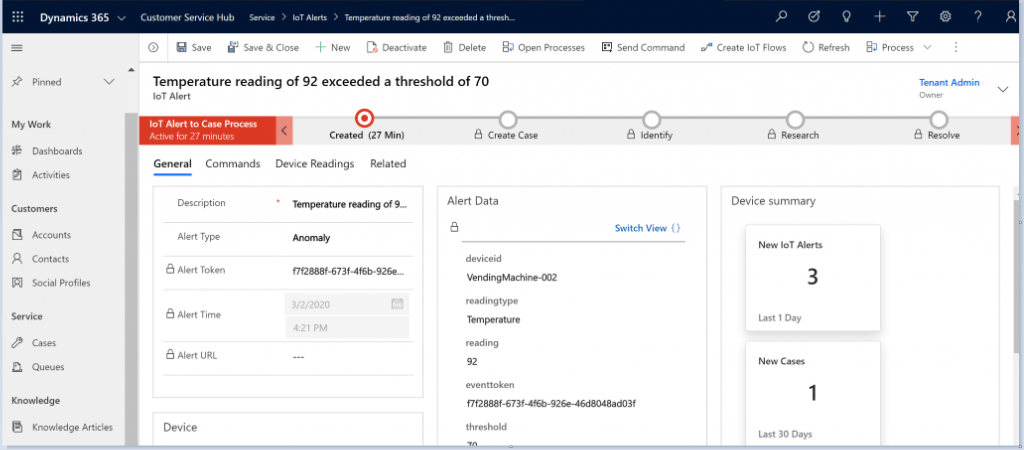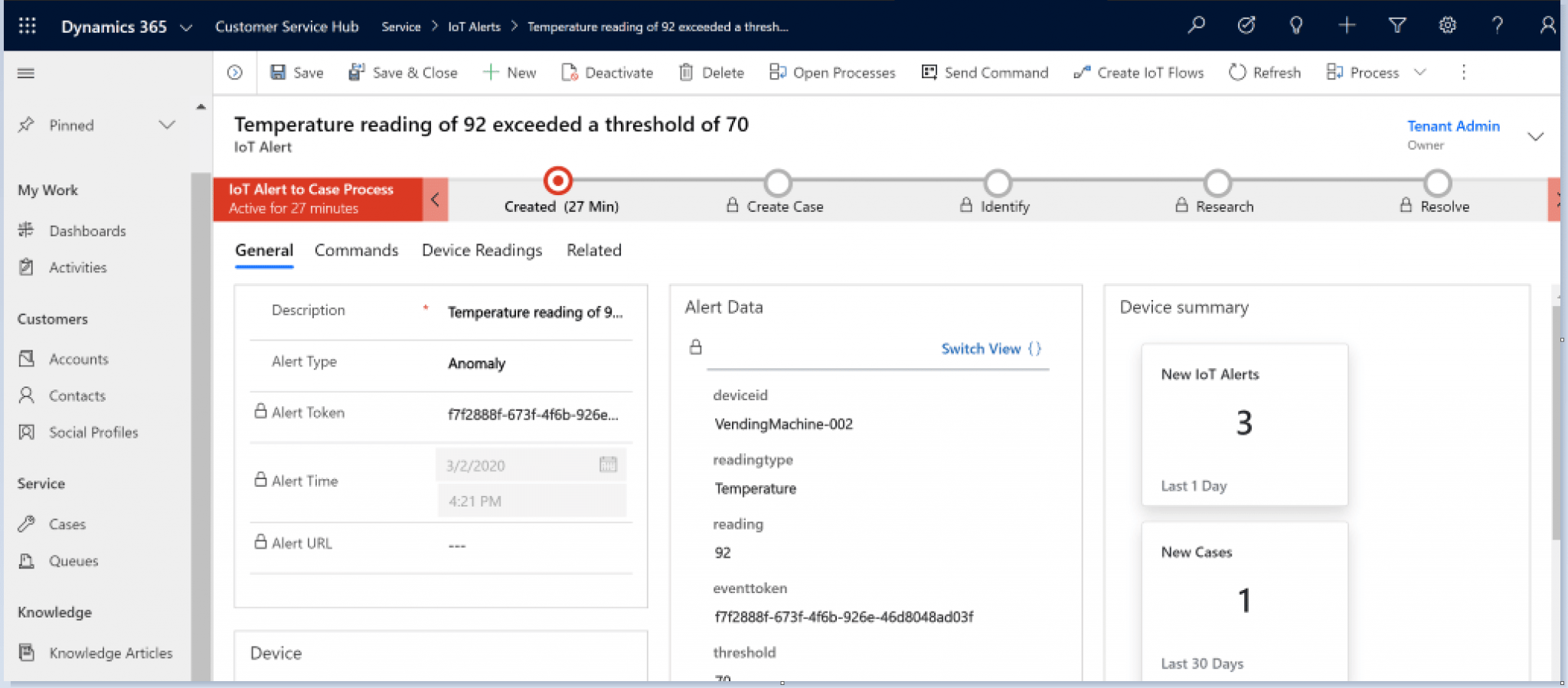 Smart assist
Smart assist is an intelligent assistant that provides real-time recommendations to you (an agent), helping you to take actions during your interactions with customers. It shows relevant recommendations such as knowledge articles, similar cases, and next-best steps. When you are interacting with a customer in an ongoing conversation, up to three top similar cases that match the conversation context are displayed in the Smart Assist pane. The suggestions are dynamically refreshed based on the conversation context.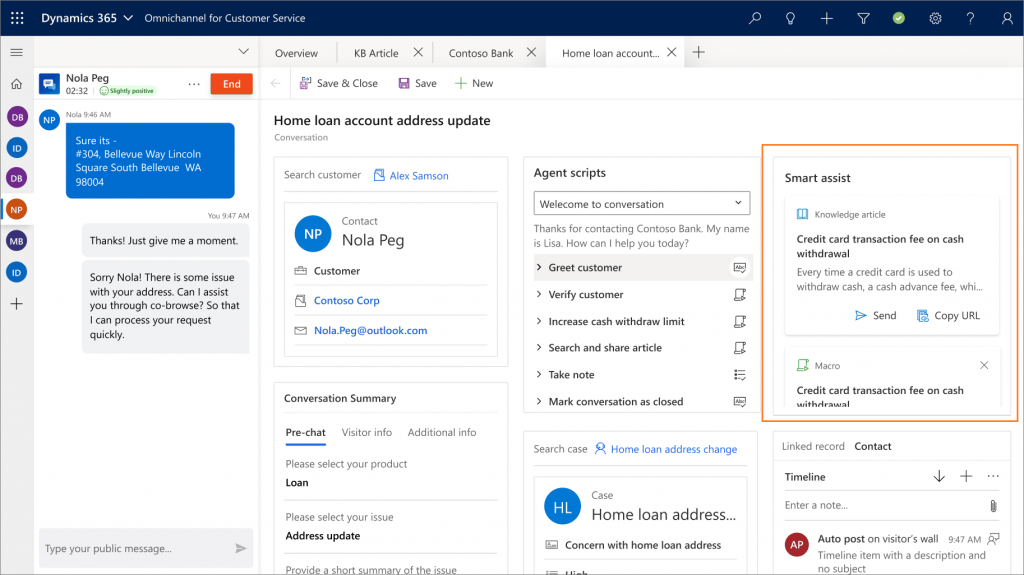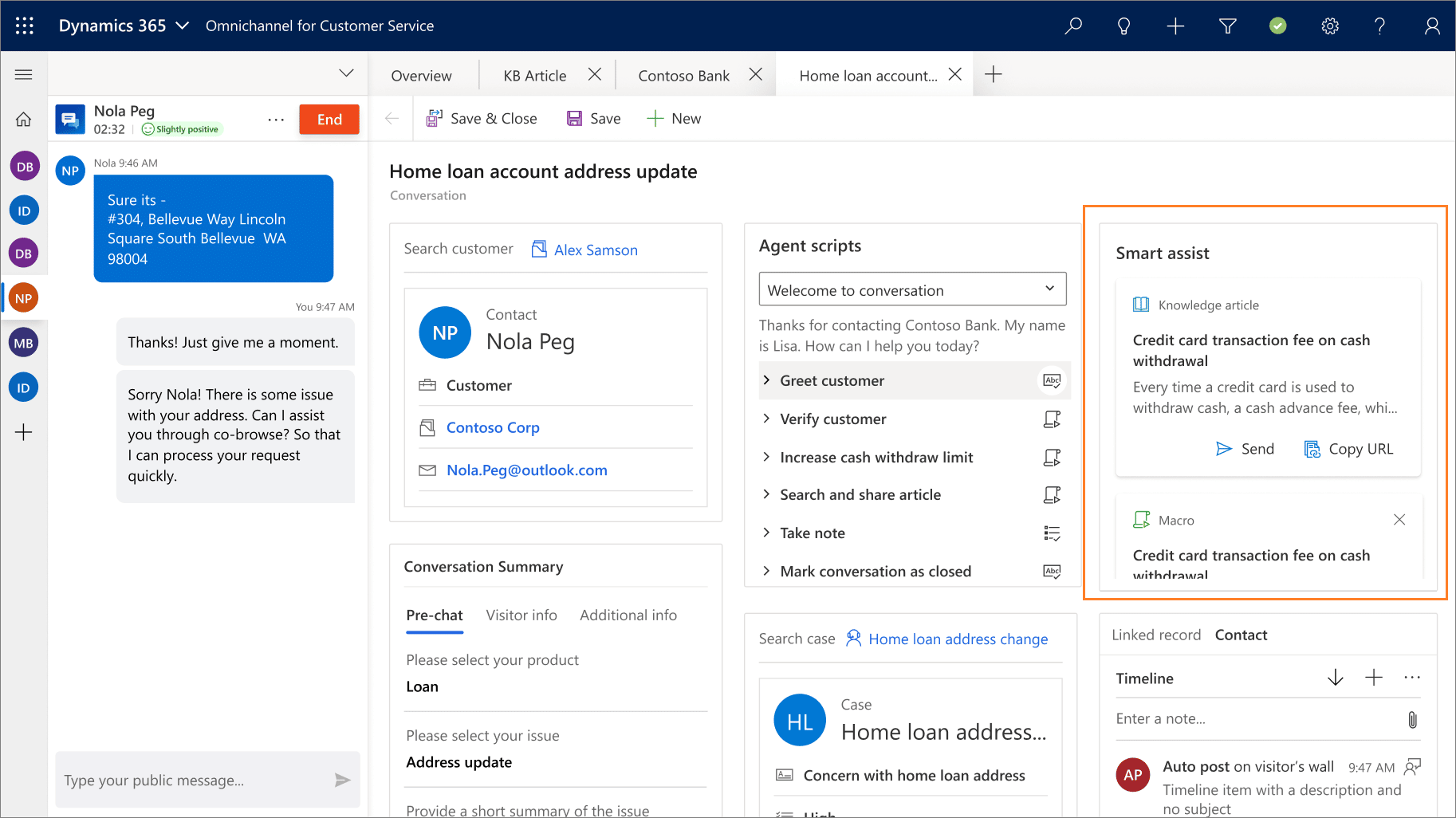 Enhanced practical productivity with Dynamics 365 Customer Service
Workspace Customer Service app
To further streamline the agent experience, this great new app allows agents to handle customer cases efficiently with the help of:
Simultaneous management of multiple cases
Management of email and other case-related activities without losing context of the parent case
A productivity pane for AI-based suggestions of knowledge articles, similar cases, and other productivity tools
It brings more flexibility and a huge improvement of productivity for the Customer Service agents and really reflects what is expected of the modern customer service agent without overwhelming their workload.
New Email Experience
It is all about productivity and simplicity. E-mail is still a very popular communication channel and with the new functionality it's possible to:
Create templates with an intuitive and easy-to-understand experience
Author templates using a complete rich text experience, including the ability to manage images inline
Use a modern toolbar and have the ability to cut and paste formatted content from Office documents such as Word and Excel, while maintaining formatting
Personalize the message with dynamic customer or entity data
Productivity and user experience enhancements for timeline
The timeline is an important part of the whole Customer Engagement platform and I am positively surprised about the enhancements in this Autumn release. Enhancements to the timeline to help service agents with search and select are:
The ability to copy and paste images for rich text notes (great for brand image directly from the service agent)
Provides email-specific actions for email records
Agents can expand or collapse all records as they work
Highlights matching text for the search filter
More intelligence to uncover with Dynamics 365 Customer Service Insights
With constant improvement in mind for service providers, it's important to gain insights into critical performance metrics, operational data, and emerging trends to make more informed business decisions. This is where Dynamics 365 Customer Service Insightscomes in, and beginning with 2020 release wave 2, the insights-centric features will be deeply integrated into the Customer Service agent and manager experiences.
To date, we have had the standalone Customer Service Insights application. But now we are seeing a number of new capabilities from Customer Service Insights across core Customer Service and knowledge management areas. We've already discussed intelligent agent-facing knowledge base and similar case suggestions that help agents resolve their customer issues quickly and easily. But how about that strategic support I talked about earlier? Well, analytical views will help customer service management focus on key support areas that need attention. These highlights will also be included directly in the core Customer Service application so that users can get insights in context without having to switch between applications or treat analysis as separate from daily work.
What's new in this release? Well, with the new Sequence feature, users can create a pre-defined sequence of actions to engage with customers. Sentiment is also an interesting topic for both Customer Agent and Supervisor to get a deeper insight. Topics are generated when chat transcripts from Omnichannel for Customer Service are analyzed and grouped together, and similarities are discovered among the conversations. These are then correlated with sentiment, so that supervisors and agents can better understand how their customers feel about each topic on which they've interacted with agents.
Updates are planned from October 2020 to March 2021 so a lot more features are coming in 2021!
My next article will talk about What's New in Dynamics 365 Field Service with this Release Wave.
Meanwhile, I invite you to discuss with me: What's your take on the new features in Microsoft Dynamics 365 Customer Service? What do you see helping your business right now? What features are you still waiting for?