I have been talking a lot about Dynamics 365 Marketing for about two years. I was able to see the evolution of the product over time. We went from a product with 'fragile' functionalities to a product ready to face its competitors.
With this new release, Microsoft keeps improving Dynamics 365 Marketing by introducing new great functionalities, that give marketing professionals the features they expect from individual best-of-breed applications, but now they can have it all in one app to better support modern multi-channel marketing strategies. So, what is my take on the latest functionalities?
Improvement of digital channels management
More than ever, with consumers and businesses putting more weight on digital platforms to do business, socialize and purchase; being able to manage digital channel management is a necessity. Microsoft offers a range of products that integrate with one another to support your digital activities.
Microsoft Teams integration for virtual events
"I have a Teams meeting in 15 minutes" has now replaced "What meeting room are we in?"
YES, Microsoft Teams is everywhere! So, it is logical that we now have an integration between Dynamics 365 Marketing and Teams to support event management.
How does it work? Very simple: Open an event, on the top right of the form enable the feature.
Once it's enabled, you can create and host live events with Microsoft Teams as the webinar provider.
It is so easy to manage 'Online' Events! I encourage you to use this feature, it will help you adapt your customer and prospect engagement in the new normal so that you don't stop doing what you do best.
Improved social posting and analytics
The social post designer in Dynamics 365 Marketing has seen improvement which I really like,: two clicks and the post is ready. You can consult the preview to be sure you'll create the best impact.
As you'd expect users can post immediately or schedule it.
Easy user experience
Everybody will agree with me: We want a product that's easy to use.
Microsoft commits to being the benchmark for ease and usability: Great on paper but what does this really mean?
A revamped customer journey designer experience
The Customer journey designer has been totally redesigned.
It takes me some minutes to understand how it works but with this new release we can: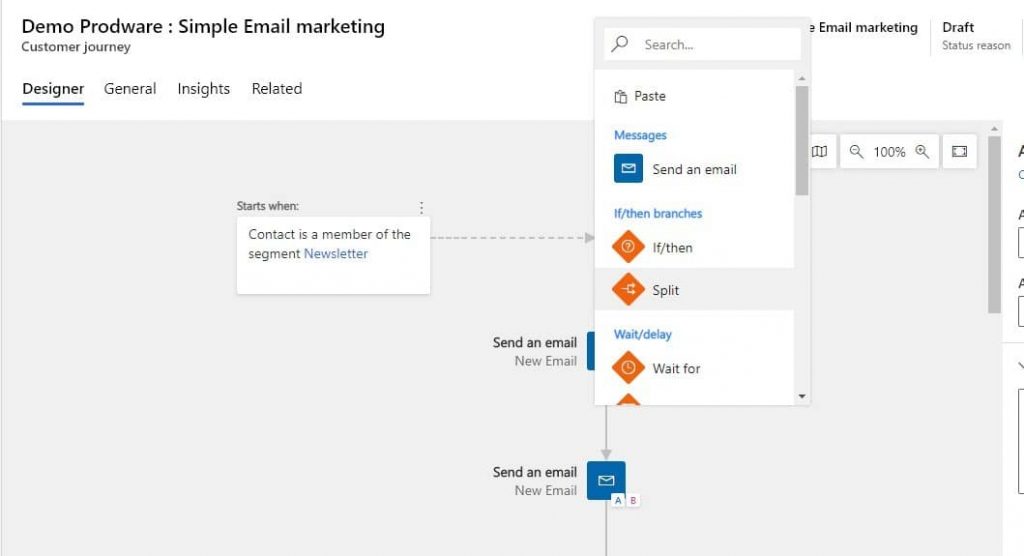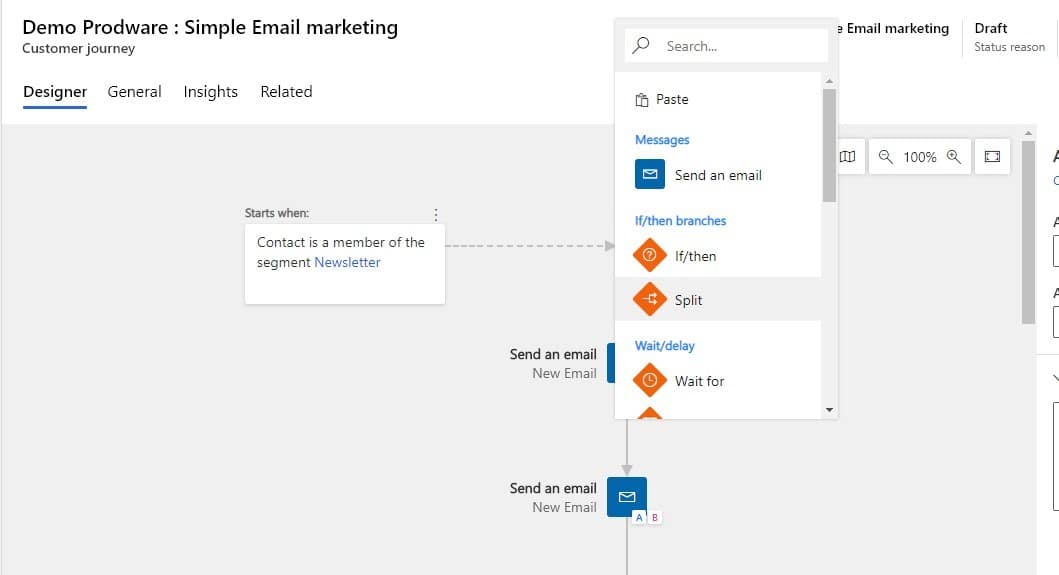 o Multiple swimlanes can be added (multi-steps with different triggers and audiences) for the same Customer Journey
o Trigger negative journey paths: For example, people that didn't attend an event or didn't open an email. For me, this was a feature that was really missing
o Switch from Horizontal view to Vertical View: A simple yet effective choice available depending on the user, for example, I prefer the vertical view for a customer journey with multiple swimlanes
o Copy/Paste an action: Another simple feature but it will really save time when designing customer experiences and campaigns
Without question, this new design is better but I think that we can still improve it (more actions?) or maybe I just need to use it more and get more familiar? What do you think?
Create customized emails faster
Maybe I'm too demanding but when I create a marketing email, I don't want to have any limitations. (Design or Content wise).
The new email designer experience is going in this direction: Users can add how much columns they need (10 is the maximum, but who needs more than that?), Increased device compatibility (better support for Outlook), Users can edit and create marketing forms within events etc. to save time switching between areas to reflect the flow of a marketing professional.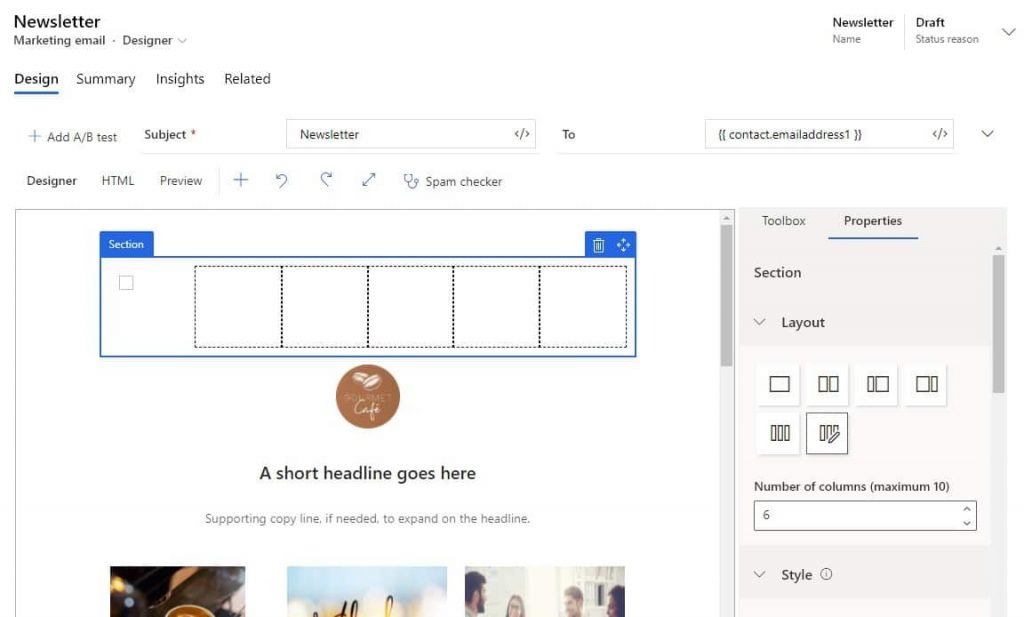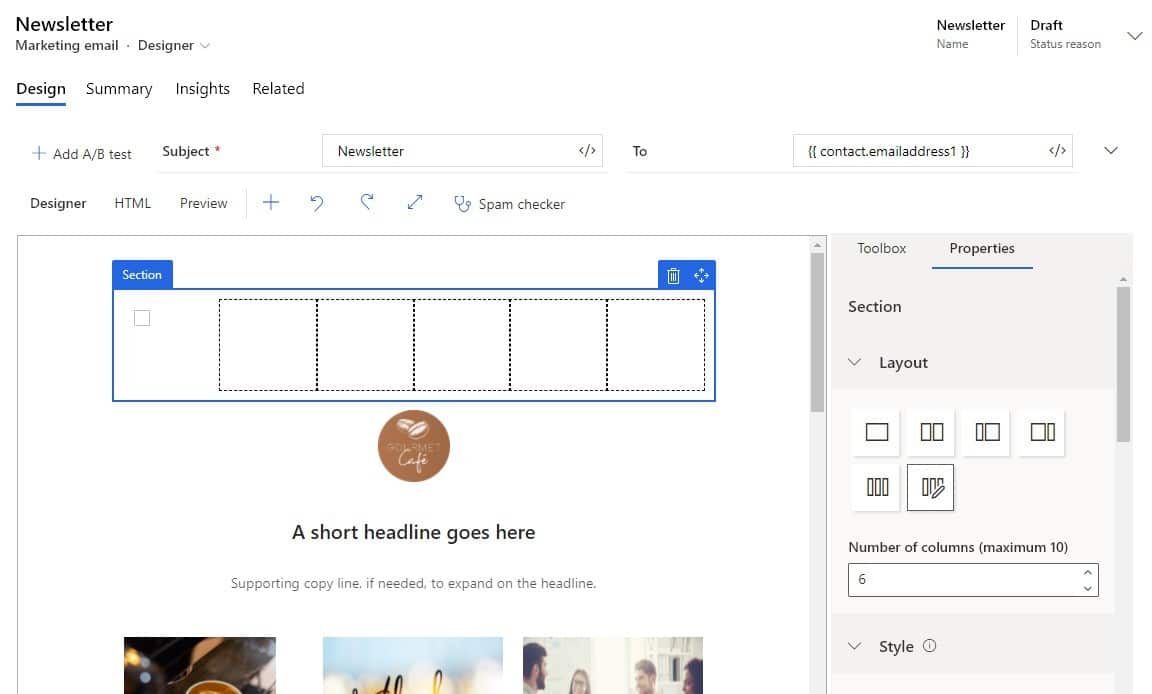 The global editing performance has been improved: elements are loading faster, easier to move objects.
Use natural language to create targeted segments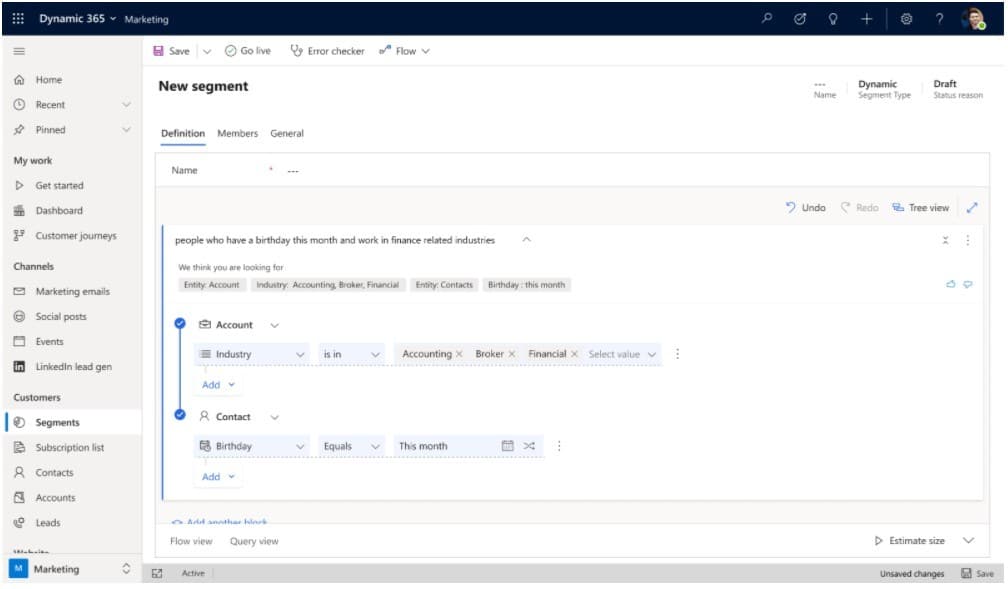 This feature was not enabled on my environment so I didn't test it but this is Microsoft's description: "Use simple words to specify the attributes and logic for the segment you want to target."
Is it clear? Let's take an example: I can now enter a sentence describing the segment I want to create: "Women with children living in Paris" and then the magic of AI will operate and build the segment for me. 😊
I love these magical things but I will be totally convinced after testing it. (Maybe on a future post?)
No limitation on form submissions
As I told you before, I don't like limits, so this new feature makes me happy.
Previously, forms had to be connected to a lead or a contact and I often thought it was a sticking point.
Now you can collect form submissions without updating any contact or lead. And if we want to go further, we can use a workflow to store form submissions in any entity.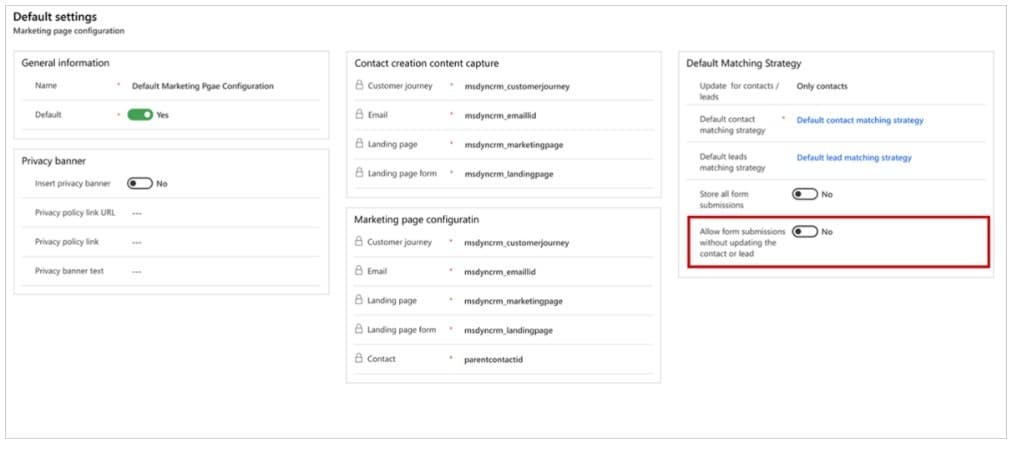 I cannot finish this article about Microsoft Dynamics 365 Marketing without mentioning Customer Insights.
The link between the two products has always been strong and will continue to strengthen, for a better 360-degree view of customers.
It's a subject in its own right that I should explore in a future article.
As you know, updates are planned from October 2020 to March 2021 so a lot more features are coming in 2021! I will keep you updated of course!
I invite you to share with me: What's your new favorite feature in Microsoft Dynamics 365 Marketing? How do you see that helping your business respond to today's omni-channel world? Do you feel the app is now a serious contender to replace all those separate little apps for each marketing channel? What features you are still waiting for?